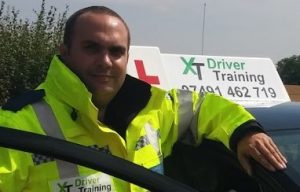 "Striving to turn advanced driving from an art into a science"
I am a former Police officer, joining in 1996 as Special Constable, before serving full-time in 999 response and roads policing across South Worcestershire. I left the Police in 2010 and worked as a freelance Ambulance response trainer. SC/CTC cleared since 1996 and like all ADI's hold an Enhanced CRB/DBS Certificate.
I am currently the Chief Observer of the Worcestershire Advanced Motorists IAM Group, and helped setup the local IAM advanced driving scheme for 18-25-year-olds. I was active for many years as a senior tutor and committee member within the West Midlands RoSPA Group until it dissolved in 2017 and after this carried out a similar role for the Gloucestershire Group until 2019.
In addition to my Police and Ambulance experience, I am rated by the Driver and Vehicle Standards Agency, (the body that regulates instructors) as Grade A in instructional ability, (which alone puts me in the top 24% of instructors nationally*). I have also taken the optional DVSA Special Test for instructors at their Cardington HQ, receiving a Grade A.
I also hold all the recognised civilian advanced driving qualifications, from the organisations running the tests, (RoSPA, IAM ,DIA, DVSA), as well as where applicable the related trainer qualifications, 'train the trainer' qualifications and have also qualified or trained as an examiner for several of them.
DVSA Examiner after a Gold assessment drive with no areas of weakness identified, I attended a DVSA Examiner Training course at Cardington HQ as well as at a live test centre. I'm also qualified as an IAM examiner, and currently, work as a DIA Examiner.
Additionally I work with one of the leading national providers, as well as directly to train candidates for the Driving Instructor qualifying tests, as well as those seeking to become DVSA examiners.
A member of the Governing Committee of the ADI National Joint Council, the largest association of its type which liaises directly with the DVSA, representing the views of thousands of driving instructors across the UK.
In 2017 in recognition of my work as a RoSPA Tutor, I was invited to Buckingham Palace to join the RoSPA 100th Birthday Celebrations, and as a VIP to the IAM Event for Observers at Silverstone racetrack.
I was also one of only two trainers from Worcestershire to attend the DVSA Workshop at Cardington in the introduction of the new part 3, and was invited to become an inaugural Fellow of the IAM. Photographs of all these events can be found on this website.
You can find reviews, details of my latest prices, and pass rate here.
Qualifications
DVSA Examiners Entry Driving Test – Gold – No Areas of Weakness
DVSA Examiners Theory and Hazard Perception Test
Fellow of the Institute of Advanced Motorists (FIAM)
Institute of Advanced Motorists (IAM) Masters Mentor

IAM Fleet Trainer
IAM Group Masters Trainer
IAM Chief Observer
IAM Local Observer Assessor (Maintained on retest)
IAM National Observer   (Maintained on retest)
IAM Local Observer
IAM F1RST (Maintained on Fellow Retest and National Observer Retest)
Driving Instructors Association (DIA) Diamond Examiner
DIA Diamond Advanced Trainer
DIA Award in ADI Knowledge
Senior Tutor – RoSPA West Midlands Group until the group dissolved in 2017
RoSPA Car Training Co-ordinator – Gloucestershire Group 2017-2019
Energy Saving Trust – Approved Electric Vehicles Trainer
Committee Member – RoSPA West Midlands Group until the group dissolved in 2017.

Committee Member – RoSPA Gloucestershire Advanced Drivers and Riders until 2019
Member of the training team of the ADI NJC delivering training workshops to instructors across the country.
Copies of the certificates can be viewed on this website (*Approximately 24% of ADI's were rated A, at the time of writing, the % varies slightly throughout the year as ADI's are tested)